Create Your Digital Product
In 5 Easy Steps
Yes, selling digital products is by far the most lucrative business on the internet.
Let's talk about making money online in Nigeria. Whether you're looking to earn a side hustle or build a full-time income, Nigeria is no exception to the online opportunities waiting to be explored. In a world where the internet has become the ultimate equalizer, making money online has become more accessible than ever.
So, grab your digital shovel, and let's unearth the secrets to making money online in Nigeria.
8 Ways of Making Money Online in Nigeria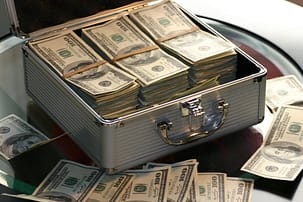 1. Freelancing: Hustle from the Comfort of Your Home
Freelancing is like the online gig economy's playground, and Nigeria has a front-row seat. Platforms like Upwork, Fiverr, and Freelancer allow you to showcase your skills to a global audience.
Whether you're a talented writer, graphic designer, or coding wizard, there's a demand waiting for your expertise.
Just create a killer profile, set your rates, and watch the job offers roll in.
2. Sell Your Skills with Online Courses
If you're a pro at something, why not teach others and make some cool cash in the process? Websites like Udemy, Teachable, and Coursera provide a platform for you to create and sell online courses.
Share your knowledge on anything from programming to makeup artistry, and let the internet do the rest.
Nigerians are hungry for quality education, and your expertise might just be the meal ticket they're looking for.
3. Affiliate Marketing: Sell Without the Hassle
Imagine making money by recommending products you love – enter affiliate marketing.
Join affiliate programs of companies like Jumia, Konga, or Amazon, and earn a commission for every sale made through your unique affiliate link.
It's like being a digital matchmaker, connecting buyers with sellers and pocketing a percentage for your efforts.
4. Dropshipping: Minimal Investment, Maximum Profits
Dropshipping is the art of selling products without dealing with inventory or shipping.
Find a reliable supplier, set up an online store (Shopify and WooCommerce work wonders), and start promoting your products.
When someone makes a purchase, the supplier ships the product directly to the customer.
Your job? Making sales and counting your profits.
5. Virtual Assistance: Be the Online Superman
If you're organized, tech-savvy, and love helping others, becoming a virtual assistant might be your calling.
Businesses and entrepreneurs worldwide are outsourcing tasks like email management, social media posting, and customer support.
Websites like Remote OK and Upwork have a plethora of opportunities waiting for you to swoop in and save the day.
6. Start a Blog: Let Your Voice (and Wallet) Be Heard
Blogging is more than just sharing your thoughts – it's a viable way to make money online. Choose a niche you're passionate about, start a blog on platforms like WordPress or Blogger, and create engaging content.
Once you've built a steady stream of readers, monetize your blog through ads, sponsored content, and affiliate marketing. It's like turning your words into an online goldmine.
7. Social Media Management: Get Paid to Scroll
If you're the social media maestro among your friends, why not turn those skills into cash? Many businesses struggle to maintain a strong online presence, and that's where you come in.
Offer your services as a social media manager, handling everything from content creation to engagement. Platforms like Instagram, Twitter, and Facebook can become your office, and your smartphone, the ultimate tool of the trade.
8. Online Surveys: Turn Your Opinions into Cash
Believe it or not, your opinions are valuable. Websites like Swagbucks, Vindale Research, and Toluna pay you for taking surveys. It might not make you rich overnight, but it's an easy way to earn a little extra cash while binge-watching your favorite shows.
Conclusion
In conclusion, making money online in Nigeria is not only possible but increasingly necessary in today's digital age. The internet is a vast playground of opportunities – from freelancing to dropshipping, affiliate marketing to blogging.
So, whether you're a student looking for a side gig or a professional seeking a change, grab your piece of the online pie and start making money from the comfort of your own home.
The internet awaits, and so do the opportunities. Happy hustling!
Stay Connected:
Your Gateway to Exclusive Offers!
Subscribe for free and receive in-depth guide to online business, WordPress and more. You can unsubscribe at any time.